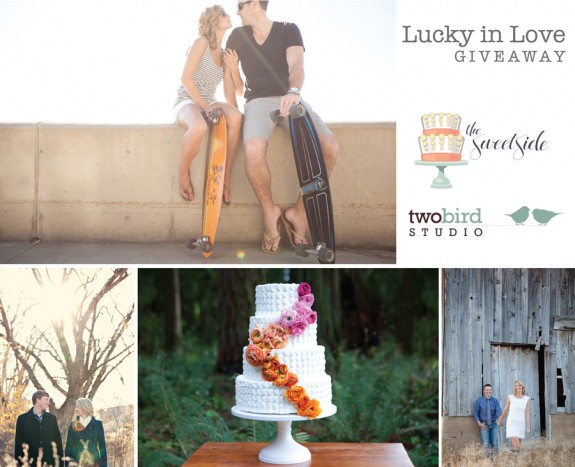 Hey Seattle couples, are you Lucky and in Love?!?!
Wedding photographers, Two Bird Studio (twobirdstudio.com) and Seattle-based cake designer The SweetSide (ilovethesweetside.com) are teaming up to give one lucky couple something big for their wedding!
Two Bird Studios will capture your love and energy through a personalized engagement shoot (to be shot in the greater Seattle area). Whether you want something more traditional or you want to get really creative, your engagement shoot is a way to showcase your style as a couple.
Cutting the cake is a timeless tradition. Whether you're planning a polite feeding or to smash it into your new hubby's face, a beautiful and tasty cake is something that your guests will always remember.  The SweetSide has created this beautiful piece and would love to share it with you.
 What can you win?
A 3-hour engagement session from Two Bird Studio, 5 high-res files of your choice for printing and a 11×17 canvas print. $700 value.
A 4-tier, 115 servings, petal finish buttercream cake with floral detail (customizable within The SweetSide's discretion).  $600 value
How can you win your personalized engagement shoot and beautiful cake?
You must 'Like' both Two Bird Studio (facebook.com/twobirdstudio) and The SweetSide (facebook.com/ilovethesweetside) on facebook.
Between now and May 11, 2012 upload a photo of you and your sweetie to Two Bird Studio's facebook page along with a caption on why you think you deserve to win. Please make sure to include an email address so we know how to get in touch with you.
All entries will be compiled and on May 12, 2012 the entries will be uploaded to a photo album on Two Bird Studio's Facebook page and voting will be open.
The winner will be chosen based on who's photo has the most likes, so tell all your friends to head over and vote, vote, vote!
Want to double your voting opportunities?? Upload your photo to The SweetSide's Facebook page and rack up Likes there too!
Whoever has the most Likes on Two Bird Studios and The SweetSide's profiles combined on May 29, 2012 at 3pm PST wins the engagement session and cake!
The fine print
No purchase necessary.
Photo uploads will be accepted until May 11, 2012 at 3pm PT, starting May 12 photos will be available for Likes (voting).
To be available for voting on both facebook pages, you must upload your info and photos to Two Bird Studio AND The SweetSide.
Prizes cannot be transferred. The couple that wins the prize, must be the ones to claim it.
Winner must redeem prizes by May 19th 2013.
Engagement session must be shot in the greater Seattle area (Photo shoot and cake delivery dates to be agreed upon by all parties and pending availability.)